Samurai Shodown


Japanese
サムライスピリッツ
Samurai Supirittsu
Developer
SNK
Publisher
SNK Corporation, Athlon Games
Platforms
PlayStation 4
Xbox One
Nintendo Switch
Microsoft Windows
Arcade
Release date
June 27, 2019 (PS4, XB1)
Winter 2019 (NS, PC)
Summer 2019 (Arcade, Japan only)
Genre
Fighting
Modes
1P Story
2P Versus (offline/online)
Survival
Dojo
Practice
Rating
ESRB: M for Mature (17+). Blood and gore, partial nudity, violence.
Graphics
Unreal Engine 4
This article is about a media that has yet to be released. As such, some of the information might be inaccurate, and may change substantially as more information becomes available.
EMBRACE DEATH AND NO ONE CAN STOP YOU - Game's tagline.
Samurai Shodown (japanese name SAMURAI SPIRITS) is the title for an upcoming fighting game developed and published by SNK Corporation for PlayStation 4, Xbox One, Nintendo Switch and PC. It was revealed at Sony's conference during Tokyo Game Show 2018, and is currently scheduled for a worldwide release during June 27, 2019 (PS4 and XB1), marking the first time a Samurai Shodown game will launch simultaneous in all regions. Samurai Shodown will be the 8th main 2D title in the Samurai Shodown series and the first brand-new title launch in 11 years since Samurai Shodown Sen in 2008.
The first trailer of this new game reveladed the return to the side-scrolling movement and 2D camera perspective, adding tridimensional graphics for character models and stages, as seen before in The King of Fighters XIV (SNK, 2016) and Street Fighter IV (Capcom, 2008). Now common within fighting games, the camera will have movement freedom to take cinematic close-ups during certain moments, like Finishers or Super Special moves. The game features paint-brushed art style influenced by Japanese hand-draw and manga; this art direction (driven by artist Yumi Saji) was chosen thanks to the unique texture, color scheme, very distinct and pleasing art that Japanese style offers, and also to differentiate Samurai Shodown from other titles with a more realistic approach. The traditional, slow-paced, tactical gameplay pays tribute to the series' first titles. "It has a lot of big damaging hits, and feels like a game where you just laugh at how damaging and crazy it is sometimes. We put a lot of focus on pulling the best aspects of the series and putting them together in this new entry in the game series", said game director Nobuyuki Kuroki. True to its roots, the game will have japanese-only voices for characters, narrator and announcer, while text and subtitles will be multi-language (english, spanish, korean, chinese, etc). For the first time in the series, a Samurai Shodown game is accompanied by a main theme.
Players will engage in 1-on-1, weapon-based combats, using attacks with varying degrees of power. As usual, characters will have their own set of unique special movements, and will be able to perform his signature, powerful super special moves to deal massive damage. As seen in the debut trailer, the classic blood-eruption finishers at the end of the match returns with a new cinematic take where background turns red and characters are grey-scaled. The tactical Evasion moves will be present to dodge and perform counter-attacks. Locking Swords system also makes a return to this new game. Rage Gauge will provide extra power to the player's character when its full, and like early titles in the series some Special Moves will be enhanced to deal extra hits during MAX Rage mode. Knocking-on-the-Sword (a.k.a. Weapon-Flipping Technique) moves can be performed when MAX Rage or Rage Explosion are active; capable to disarm opponents if the movement hits successfully. Like Samurai Shodown VI now each character has a second, hidden Super Special move even stronger that Weapon-Flipping Technique but only it can be done once per match (this Super Special don't disarm opponents). If the player uses Rage Explosion he is able to do another once-per-match Super Special move called Fatal Flash (a.k.a. Lightning Strike); whether the player executes this movement successfully or not, Rage Gauge will be canceled for the remaning match.
New to the series is the Dojo Mode that involves "Ghost" character creation. SNK is including a "deep learning AI" technology that studies and learn player's behaviours and tactics only during offline modes (Story, Versus, Survival, etc). With this data the game creates a Ghost character that mimic human skills. This Ghost may be downloaded by other players to have an asynchronous versus experience. In addiction to this, Samurai Shodown will include an "Ironman Challenge" feature with 100 one-round matches with AI-controlled Ghosts.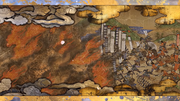 Chronologically this game will be set 1 year after the events of
Samurai Shodown V
(1786) and some months before the original
Samurai Shodown
game (1788).
As seen in the debut trailer.
It is 1787, the 7th year of the Tenmei era. A newly appointed counsel to the Shogun, Matsudaira Sadanobu, has been chosen to usher in a new age of reform with the Kansei era. However, the land remains beset by fire, ruin, and famine, all while a sinister cloud darkens the air with a foreboding sense of dread.
Characters
Edit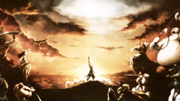 The starting roster features a total of 16 characters, with 13 returning from previous iterations, three newcomers, and a new final boss yet to be announced. Additional characters are stated to appear as DLC.
New to the series
Edit
Returning
Edit
| Name | Character |
| --- | --- |
| Galleon Senjō / ガレオン船上 | Galford |
| Gairyu Isle -Daytime- (Izu) / 骸龍島・未の刻 (伊豆) | Haohmaru |
| Gairyu Isle -Night- (Izu) / 骸龍島・丑の刻 (伊豆) | Ukyo |
| Shibaigoya / 芝居小屋 | Kyoshiro |
| Kamui Kotan (Ezo) / カムイコタン (蝦夷) | Nakoruru |
| Mikatagahara / 三方ヶ原 | Genjuro |
| Kumanokodō / 熊野古道 | Hanzo |
| Uduki / 卯月 | Jubei |
| Green Hell / グリーンヘル | Tam Tam |
| Chamber of Minerva / ミネルヴァの間 | Charlotte |
| Rakuchūsan Monzen / 洛中山門前 | Yashamaru |
| Dojo (Hida) / 道場 (飛騨) | pending |
Development
Edit
As part of the announcements and releases during SNK Corporation's 40th anniversary, the company started a countdown for the reveal of a new game in September 3, 2018. Such countdown finished with the debut trailer in September 10 during Tokyo Game Show 2018. Using art style influenced by Japanese hand-draw, the game is powered by Epic's Unreal Engine 4. In February 26, 2019, SNK release a second teaser trailer with gameplay footage showing screen elements like Life Gauge, Timer, Victory Icons, and Rage Gauge, while the graphics were more polished. The next day the Evolution Championship Series committee published the main roster of fighting games for the 2019 edition, adding Samurai Shodown as tournament title. "The world has a big focus on esports right now, and we also feel that Samurai Shodown is one of the more unique titles in the SNK library", commented Kuroki as one of the reasons to develop this new entry in the series.
SNK was present during the PAX East 2019 activities, releasing a new gameplay trailer which confirmed the return of Yoshitora, Shiki, Ukyo, Genjuro, and more. The first playable build was available for the attendees (Story and Versus modes). SNK members gave interviews to the media and offered a sneak peek panel called "Samurai Shodown – Resurrecting a Legend". During this panel character designer Joshua Weatherford cited legacy (the same tense and exhilarating battles that the series is known for), evolution (high graphic detail thanks to the Unreal Engine 4), and revolution (Deep Learning AI for the Dojo Mode) as the keywords that best define this "soft reboot". Weatherford mentioned that new Samurai Shodown is deliberately a non-combo-based fighting game that motivates predicting the opponent, keeping a strong focus on the traditional gameplay of the series where the player is "one strike away from death but also one strike away of victory". The panel presented the first look at a new character: the sailor Darli Dagger, which according to character designer Weatherford, has "something special" when she is unarmed. Another reveal was a new compilation in collaboration with Digital Eclipse called Samurai Shodown: NeoGeo Collection for a fall 2019 release.
One week later SNK hosted a live streaming revealing the launch date, explaining gameplay mechanics, showing two new characters called Yashamaru Kurama (new protagonist) and Wu-Ruixiang alongside a new trailer with the full starter roster in action. Also, an arcade version was confirmed for Taito's NESiCAxLive2 digital distribution system.
The game is scheduled for release on June 27, 2019, first in PlayStation 4 and Xbox One home consoles. In addition to the standard base game, there will be two special editions for Japan: the Limited Edition and Deluxe Pack. Only available in the SNK ONLINE SHOP the Limited Edition will come with several physical items, including the PS4/XB1 game case, special art book, exclusive Haohmaru and Genjuro framed illustration by artist Yumi Saji, Nakoruru and Haohmaru retro-3D skins DLC, all of these items inside a nostalgic Neo Geo MVS-style case. Deluxe Pack will only included the Season Pass voucher, which promises to add new characters during October, December, and February 2020. Players who pre-order Standar or Deluxe Pack before July 16 will be awared by the special retro 3D skin for Haohmaru that resembles his Samurai Shodown 64 look, while another retro 3D skin for Nakoruru only will be available for the Deluxe Pack pre-orders.
Main article - Samurai Shodown Gallery
Promotional trailers
Edit
Character introductions
Edit
External Links
Edit